Fen Washes Project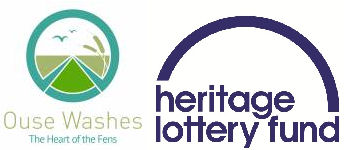 The Society in this project will be working with the OWLP, including the Cambridge Archaeological Unit, Department of Archaeology, the University of Cambridge, who are delivering the southern element of the archaeology outreach, centred along the Ouse Washes in Cambridgeshire.
This award is a small community grant, to enable the Society to deliver community archaeology and heritage outreach in and around the northern washes, e.g. specifically the Norfolk parishes of Denver, Fordham, Hilgay, Welney, Nordelph and Upwell. As part of this project there will be two part-paid/part-voluntary Placement Project Officer roles, in a similar way, as there is with our current WWI project, 'Zeppelins over Lynn and the Royal Flying Corps Home Defence'. So, we are giving two opportunities to recent local graduates with an interest and skills in archaeology, history and/or heritage, to take part, in managing and delivering community outreach in our region. This is an important contribution, 'capacity building' local skills, believing in local talent - the Society is delivering archaeology using local people, for our local community!
Edward Cumbley has just told us that he has gained the grades to get the University place he wanted. See Here
A summary statement on the project is provided below:
Project Summary
Despite the important contribution of farmers, land-workers, local families and amateur archaeologist recovering archaeological artefacts in the Norfolk peat fens, islands and fen-edge over the past 50 years, there has been no outreach activities. Whether they are Neolithic flint axes, bronze swords from the Wissey, or skeletons representing bog burials, or Roman brooches, there is a long tradition of local collecting that continues and would benefit from a targeted programme of community archaeological outreach. This project will deliver opportunities over weekends for local people, young and old to systematically fieldwalk, excavate survey and handle their own archaeology. Discrete small-scale community outreach events are to be targeted at the communities in the landscape of the Norfolk Ouse Washes and adjacent fen, fen-edge and islands (Figures 1 and 2).
Overview
Project Focus Area
The OWLP aims to raise awareness of this unique landscape, and engage local peoples in conserving and better understanding the natural and historic landscape assets of this area. Although some archaeological and heritage outreach is programmed, these events are centred deep in the south Ouse Washes (via Cambridge Archaeological Unit, in Cambridgeshire). No outreach events are programmed north. The northern Ouse Washes, into Norfolk where the River Great Ouse passes into the Black Peat Fens, adjacent fen islands, such as Hilgay and Southery, or near the chalk fen-edge, at Downham Market and adjacent the Denver Sluice are to be included in this project (Figures 1 and 2). The www-page for the HLF supported OWLP project is to be found here: Website
This project will focus on a study area covering the area running from east-west, from the open sandy soils and eroding fen skirtland, mineral islands in the peatlands, for example, the Hilgay and Methwold fens, to the deeper peat parishes of Nordelph, Ten Mile Bank and the fen-edge parishes of Fordham, Denver, including the important Saxon and medieval township of Downham Market. The contrasting landscapes of the fenland and fen-edge parishes in the Norfolk Ouse Washes and areas adjacent to it constitute the living rural communities to be targeted by this project (Figure 2).
This project will go out into the town (Downham Market), villages and hamlets of the area and invite communities to be involved actively learning about the origin of the settlement where people live today. Two placement officers will be appointed from the community, so to enable local people to gain the experience of project management in community archaeology/heritage outreach (partly paid/partly volunteers, to help deliver training, to capacity build heritage skills, to sustain local engagement after the project ends in the Ouse Washes landscape). Archaeological field techniques, such as systematic fieldwalking, building survey, shovel test pitting, or 1m x 1m test pitting and artefact identification will be taught to small groups. Skills in understanding historic documents will also be taught, all centred on 4 discrete case studies (across different and/or linked parish-based locations).
Local people, both young and old, from all social backgrounds, will have the opportunity to interpret their unique fen-edge landscape for themselves and be part of a mini 'Time Team' project.
Aims
Four project aims are as follows:
To enable small groups of people, young, children and families, older people and retired people, to actively learn about the historic landscape of the Ouse Washes (Norfolk)
With support by two dedicated community archaeology/heritage outreach placements, Society Members and volunteers will help build field groups/teams within the Ouse Washes (Norfolk) area and capacity build heritage skills, so to enable people to: research, identify and record different heritage assets, from ploughed artefact scatters, to earthworks and buildings
Through actively doing landscape archaeology, foster local peoples' interest in, value and willingness to conserve heritage assets that contribute to the vital character of this unique Ouse Wash landscape
Through a project www-page linked to the West Norfolk and King's Archaeological Society www-page, to deliver resources (targeted audio and visual casts; leaflets and blogs), to enable local people to learn more about their historic hamlets and villages, fields and farms, their fenland landscape and provide a community heritage resource from which the existing and newly established groups can build upon.